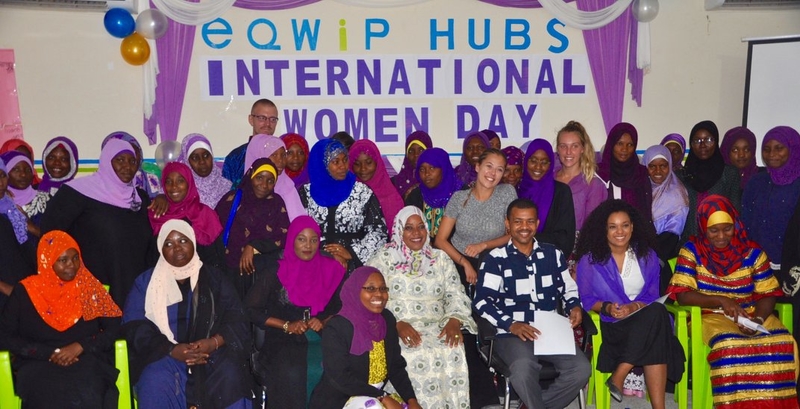 International Women's Day 2018
Imetungwa naAndrew Inglis, 9 Machi 2018, 07:05 asubuhi
On March 8th, International Women's Day (IWD), EQWIP HUBs Zanzibar held a large event to celebrate the occasion. The focus of the event was on the empowerment of Zanzibari women and sharing inspiration stories of women who have been successful. All too often we focus on barriers and challenges that women face; this event was about returning positivity to the day and engaging with the theme of IWD this year, #PressforProgress.

This event was attended by the Girl's Club of EQWIP HUBs, VTA representatives, and Madame Mwanasha Khamis Juma, Chairman of the House of Representative, was Guest of Honor. Female youth from various organisations were also invited and 6 organisations were represented: SOS Children's Village, Zanzibar Youth Forum, Zanzibar Youth Organisation for Promotion and Awareness Against Calamities, Youth of United Nations, Juvikuka and Zanzibar Youth Council for 3 regions (West A, West B and Urban). The event included a statement from the Guest of Honors, welcome remarks from Shaib, EQWIP HUBs Zanzibar HUB Coordinator, and a presentation about women empowerment by a representative from ZAYONET. The event finished with a discussion about the challenges and barriers women face, success stories, and actions to take in order to progress towards gender equality. The event was attended by about 70 people and received coverage from various media: ZBC TV, ZBC Radio, Island TV, TIFU TV, SWAHIBA FM, and Zanzibar Leo magazine whose representatives also attended.

EQWIP HUBs is committed to improving the livelihoods of young women across the world and in Zanzibar this is evidenced by events such as this one, which bring together women to share their experiences and inspire each other.