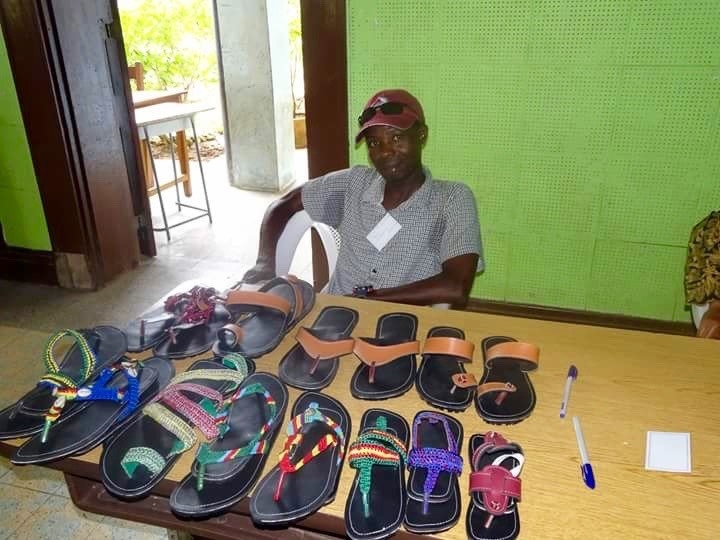 Stories from EQWIP HUBs Zanzibar - Halifa
Hadithi hii imetungwa na Andrew Inglis katika Ujasiriamali, 14 Mei 2018, 05:34 asubuhi
When a friend gave Halifa a brochure promoting the training programs offered by EQWIP HUBs, he already had a well-known shoe making and repair business. Halifa's model was to build shoes using an integration of his own leather craftsmanship and rubber provided by discarded car tires, which formed the soles of the shoes. Although the business was working, he wasn't satisfied. According to Halifa, people in the community noticed, and saw him and his business as being "rough". For Halifa, a young man living in Zanzibar, the Entrepreneurship training offered by EQWIP HUBs was not only an opportunity to transform his business, it was an opportunity to transform who he was, and how others in the community viewed him.

Upon enrolling, the first thing Halifa noticed was the profound effect that the Entrepreneurship training had on the way he felt about himself. "The program helped me understand who I really am" said Halifa, through an interpreter. The training gave him a sense of professionalism and confidence that had been lacking. "People noticed, and they looked at me differently than they had before" said Halifa. The EQWIP HUBs workshops provided him a venue to work and connect with people from a variety of backgrounds and experiences, and the training helped him streamline his business, and make it more efficient. Halifa was also exposed to new ways that businesses are taking on the issues of the environment and gender, including suggested methods for incorporating more environmentally sustainable and gender-inclusive business policies. While these were predominantly new ideas, environmental issues weren't lost on Halifa; his business was already using recycled materials. His unique business model caught the eye of Canadian Volunteers at EQWIP HUBs, who decided to feature his business at a Green Entrepreneurship Event – a networking event they were helping organize.

In early March 2018, Halifa found himself in a place he might otherwise never have expected, explaining his environmentally sustainable business model to a network of local and expatriate organizations working in Zanzibar's green economy. Halifa said the event was extremely successful; in addition to dramatically expanding his professional network, he was able to learn even more ways he could incorporate recycling and environmentally-friendly practices into his professional and personal lives. Overall the event inspired Halifa to continue to grow his business, reduce his environmental footprint, and contribute to the community.