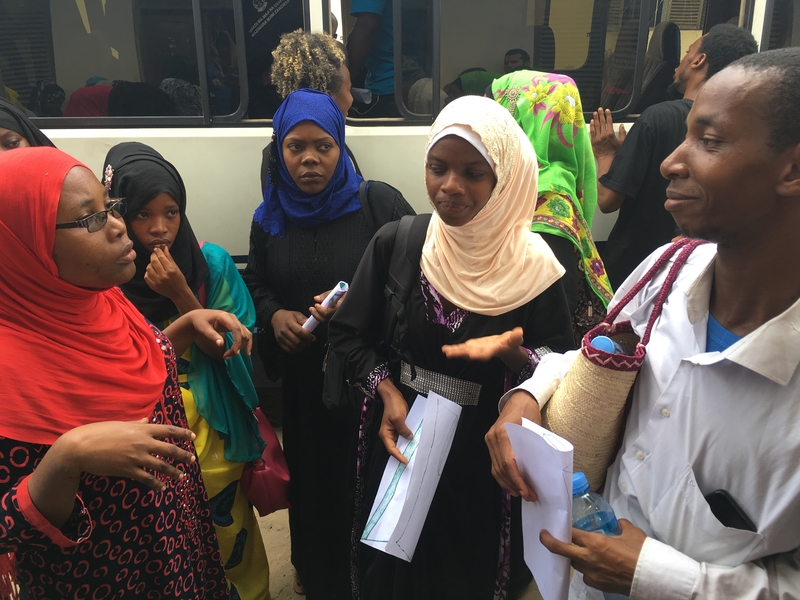 Employment Training in Zanzibar: Now Underway!
Hadithi hii imetungwa na EQWIP HUBs Zanzibar katika Ajira, 3 Mei 2016, 05:03 asubuhi
Karibu, or welcome, to EQWIP HUBs Zanzibar!

We excited to introduce a new youth program to Tanzania, and especially to Zanzibar City. Like the rest of Tanzania and East Africa, Zanzibar has a massive youth population. Unfortunately, about 33% of youth belonging to this age demographic, is unemployed. Despite the unemployment, the youth in Zanzibar are incredibly talented – they simply lack the technical and soft skills to connect with employers.

This is why EQWIP HUBs Zanzibar is here - to help youth in Zanzibar find work or employ themselves.

Whether it's in agriculture, tourism, manufacturing, or construction, there are many opportunities for youth to be innovative when it comes to employment. EQWIP HUBs Zanzibar is working with the Vocational Training Authority (VTA) at its Mwanakwerekwe location in Zanzibar, which is where we have created a hub space. This space has provided youth with a room where they can go to receive employment and entrepreneurship training, meet with their friends, and have access to computers.

The training offered through EQWIP HUBs Zanzibar will work with Zanzibari youth in two key areas: employment and entrepreneurship. All young people enrolled in the program will also learn communications, leadership, financial fitness, digital literacy, and the other skills needed to help them succeed personally and professionally.

EQWIP HUBs Zanzibar's goal is to provide equal access to programs for men, women, and those with disabilities.


The EQWIP HUBs Zanzibar Team
Our team in Zanzibar is made up of Tanzanian staff as well as youth volunteers from Zanzibar and Canada. Here are a few of the people you will be seeing at EQWIP HUBs Zanzibar:

Shaib Muhamed, Hub Coordinator
Shaib Muhamed comes to EQWIP HUBs Zanzibar with more than two decades of government and NGO experience. He received a diploma in international relations and diplomacy from the Centre for Foreign Relations in Dar es Salaam and recently completed his degree in project planning and management from the UK-based Cambridge International College. Shaib has worked as a Youth Development Officer with the Government of Zanzibar in the ministry responsible for youth. He was also a Program Manager with Youth Challenge International for three years. Says Shaib: "I want to work with EQWIP HUBs because this is a critical time where youth need a lot of guidance to bridge from childhood age to adult age. I want to support them to be successful in life." Shaib is originally from Zanzibar.

Farida Haji Juma, Training Coordinator
With a degree and diploma in Public Administration from Zanzibar University and the Institute of Public Administration, respectively, Farida Juma Haji has been an advocate for youth, women and volunteerism for over 10 years. She, herself, has volunteered on the Youth Advisory Panel at UNFPA, the Zanzibar Youth Promotions Centre, the Zanzibar Volunteering Society and as the first and only female leader of the Zanzibar Youth Council. As the newest staff member at the Zanzibar Hub, Farida is optimistic about the program and the youth with whom she works. When asked about what motivates her about working with EQWIP HUBs, she has said that she believes in the way that the project strives to create opportunities for youth, and that it is her goal to work towards contributing to their successful futures. Farida is originally from Zanzibar.

Asante sana to Shaib, Farida and the local volunteers for their hard work in getting EQWIP HUBs Zanzibar started. The Tanzanian and Canadian volunteers will be working under their leadership to conduct training, recruitment, and surveying for the program.

EQWIP HUBs Zanzibar is well on its way to creating its hub space in the city. In December 2015 and January 2016 we spent several weeks meeting with youth in local community groups and at universities, talking to them about what they want out of the EQWIP HUBs programs. In February and March we held a 10-day Training of Trainers workshop at Island Paradise Inn in Mlandege.
Employment Training Starting Soon.

We have now started our Employment and Work Experience Program. The three-month program will help youth gain the skills and experience needed to find a job in Zanzibar and Tanzania. The training has been designed in partnership with Tanzanian youth, staff at VTA, and members of a number of Zanzibar ministries.

If you are between the ages of 15 and 35 in Zanzibar and want to get employment training, find out more by emailing tanzania@eqwiphubs.org.
Kuhusu mimi
EQWIP HUBs Zanzibar connects youth with the employment, entrepreneurship, and personal skills they need to find a job or start their own business.