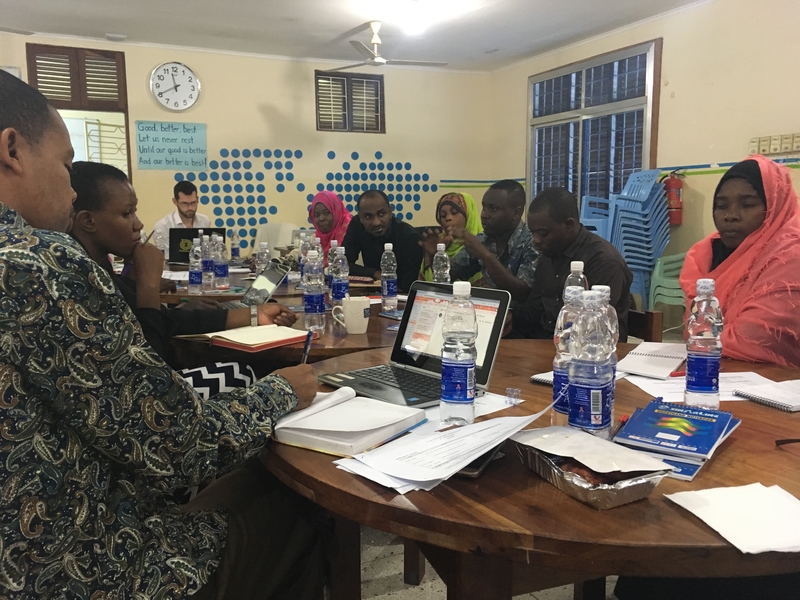 The Initiative Advisory Team and Program Impact at the Zanzibar Hub
Imetungwa naMaria Luz Siva, 6 Julai 2017, 05:50 alasiri
Ever wonder how the Zanzibar Hub is able to meet its yearly programming goals? Through collaboration and clear communication with our partners and extended network during its quarterly Initiative Advisory Team (IAT) meetings.

The IAT plays an advisory role for providing guidance and recommendations to ensure input and participation of key stakeholders in decision-making and implementation of activities, as well as supporting monitoring and learning. The IAT also plays a key role in ensuring that the country youth context and youth perspectives are considered in project design, management, and delivery.

Made up of 8-12 people and chaired by the HUB Coordinator, the IAT includes the following representatives:
- 1 representative from local partners
- 1 representative from the Hub Network
- 2-6 representatives of youth participants
- 2 representatives from EQWIP Hubs volunteers
- Knowledge and Learning Manager

From July 5th - 6th, EQWIP HUBs Zanzibar welcomed representatives from the Vocational Training Authority (VTA), our primary partner, our tertiary trainers from Vocational Training Centres in Mkokotoni and Mwanakwerekwe, the Zanzibar Youth Council, and members of EQWIP HUBs from our office in Dar Es Salaam.

Focusing on key aspects including Youth-inclusive decision-making processes, Environmental Sustainability and Gender Responsive outreach, Capacity-building plans for local partners and the status of Employability and Entrepreneurship training, IAT members discussed the recent quarter's impact on programming, and how it wishes to implement the planned activities for the rest of the year to ensure the success of the program and the positive impact of it on Zanzibari youth.
Kuhusu mimi
Maria Luz Siva is from Toronto, Canada. She holds an MA in Development Studies from York University and has worked in Development for over 5 years primarily as a Researcher and Facilitator focusing on Youth, Culture and Education. She is also an ESL Teacher, specializing in Business English.